Sell with the best in the Las Vegas area.
We will help you negotiate and secure the best possible price and terms for you. If you don't find any home in your price range, I suggest that it's reasonable to look at homes that are over your maximum price rang.
A full-service experience.
My proprietary Property Selling System was developed and has evolved over the past 20+ years to provide my clients with a consistent and proven method to:

Prepare your property for sale in the shortest period possible.
Price your property, based on current market conditions.

Get it sold quickly at the highest price possible.
How to sell like a pro!
If you're looking to sell your home, check out these 11 tips on how you can get the best possible price for your home in your area.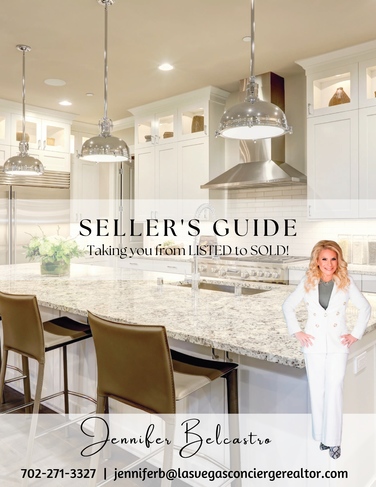 Seller's Guide
Taking you from LISTED to SOLD
Success Stories
"Jennifer was more than fantastic! Her above and beyond service is beyond the norm. My son has been a backup for the Aviators baseball team due to an injury. Jennier connected us with the right physical therapy doctors and helped us beyond real estate to make him feel welcome to Las Vegas. Her connections and her staying on top of the market to help Jordan feel comfortable and finding the right fit
…
was amazing. Jennifer passion for real estate and cultivating long term relationships is above our expectations. Jennifer is the best realtor we have ever worked with. My husband and I have been married over 26 years with lots of investments in different states."
"Super rude, would never want to work with her"
"Jennifer was awesome in helping my parents sell their home. She went above and beyond. She assisted my mom to maneuver through numerous obstacles that my mom would not have been able to get through on her own. Some of those obstacles included helping my mom through personal matters that fall beyond the job of a realtor. Jennifer was compassiate to my parents' needs, and exceeded my expectations
…
. She made the process easy."
"Jennifer was wonderful to work with and made both our buying and selling experience seamless. She even got us above asking on our sale property! I highly recommend her."
"Jennifer Belcastro is a perfect choice to sell or buy a home with. She listed my house and within days it was sold. She also helped me find the perfect home for me in the area I wanted when I thought it was impossible. Jennifer always had my best interest at heart. She truly made the selling and buying process easy. Jennifer is experienced, knowledgeable, honest, and always has a positive attitude
…
. I couldn't be happier with my choice for real estate agent. Don't hesitate to give her a call. Her passion for real estate and negotiation skills."
"Think twice about using this realtor. The positive reviews must've been paid for"
"We have done many transactions with Jennifer over the years and she is always willing to go above and beyond- to do what it takes to make sure the home is sold and the buyer gets the best offer on the home. We appreciate her hard work and dedication to her clients. She is quick to help find the best solution in a crazy market! Thank you Jennifer:)"
"Jennifer Belcastro is a true professional. With her concierge services she really sets herself apart from other realtors. I relocated to another state and Jennifer. along with her team, handled everything from coordinating contractors, scheduling the movers, and making sure everything was completed in a professional manner to get my home ready to list. Jennifer is the strongest negotiator that
…
I ever met. She went above and beyond my expectations. Jennifer's expertise in the high-end market and her attention to detail is unmatched. Buying & selling can be very stressful, but she made sure I always remained informed and she was available at all times, keeping the experience as enjoyable as possible. If you are looking for someone who is knowledgeable, trustworthy, responsive, personable and attentive, Jennifer is the Realtor for you. - Melissa Orme"
"Jennifer was so delightful to work with the land I bought in Lake Las Vegas. I encountered her an event in Idaho that she came to when I met her. I knew she was the right realtor to work with. The service she provided and her availability to meet us last minute when in town was appreciated. Jennifer and her team provided car service and made sure we knew all the important schools, restaurants in
…
the area. I look forward to taking her and the family on our boat next summer. Brandon Vanness"